FLUIDOS PROJECT TAKE PART IN AIOTI WEBINAR EXPLORING IOT OPEN CALL PROJECTS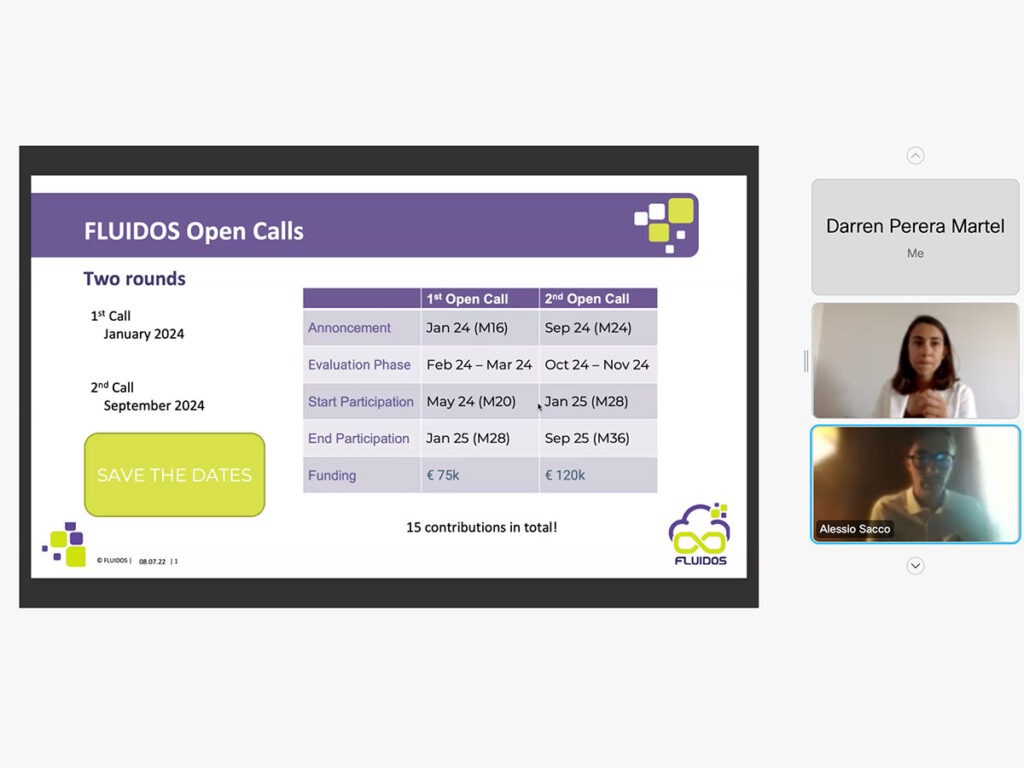 7 June 2023, Webinar
On 7 June 2023 – The FLUIDOS project, a pioneering initiative in the realm of cutting-edge technology, garnered significant attention during the recent AIOTI webinar on IoT Open Call Projects.

The European Cloud, Edge, and IoT Initiative (EUCEI) hosted the webinar, with Brendan Rowan representing the EUCEI as the event's host. The webinar aimed to shed light on the six Meta OS projects, including FLUIDOS, which are focused on building cutting-edge net operating systems.
Alessio Sacco, a key spokesperson for the FLUIDOS project, took the virtual stage to provide insights into their forthcoming open call. FLUIDOS will launch two open calls, scheduled for January and September 2024 respectively. Each sub-project within FLUIDOS will have a duration of eight months, ensuring ample time for innovation and development.
Sacco revealed the substantial funding allocated for the open calls, with a total of €70,000 dedicated to the first open call and a significant increase to €120,000 for the second. These financial provisions demonstrate FLUIDOS' commitment to supporting groundbreaking ideas and fostering advancements in the IoT domain.
FLUIDOS offers two types of grants to attract the brightest minds and ideas. The first type is the technology extension grant, which will be awarded exclusively during the initial open call. This grant is limited to a maximum of five researchers, developers, or institutions. The technology extension grant encourages individuals or organisations to propose and integrate new features into FLUIDOS while validating the results.
The second grant type is the use case grant, which will be awarded to ten exceptional applicants. The use case grant will be divided equally between the two open calls, with five recipients selected in each round. FLUIDOS is particularly interested in applicants who can demonstrate and validate the effectiveness of FLUIDOS within real-world use cases. This grant also allows for the construction of small-scale components, enhancing the practicality and applicability of FLUIDOS in diverse scenarios.
The FLUIDOS project's participation in the AIOTI webinar hopes to spark enthusiasm among researchers, developers, and institutions seeking to make their mark in the IoT landscape. The upcoming open calls present a unique privilege for those seeking to be at the forefront of cloud, IoT and edge computing advancements, ensuring that FLUIDOS remains at the cutting edge of technological progress.