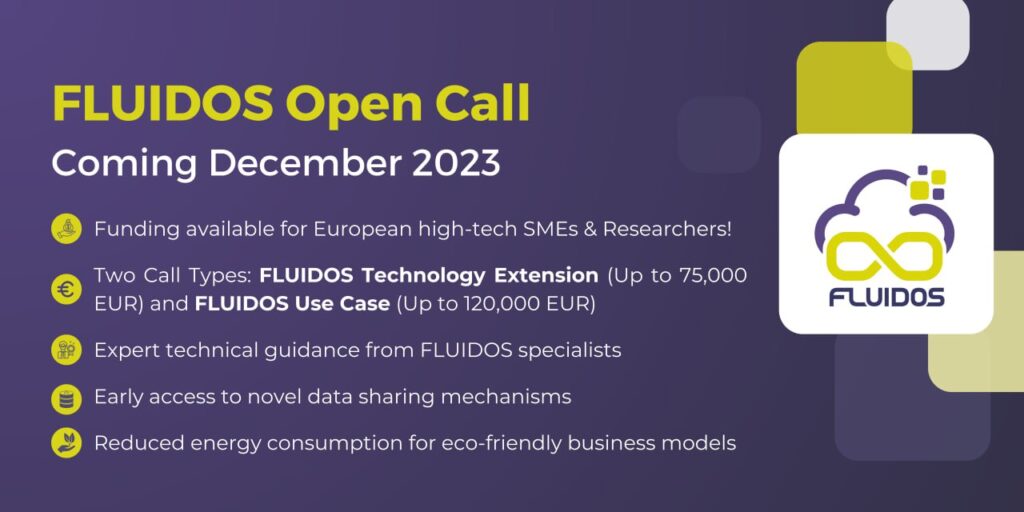 Receive up to 120,000 EURO and technical guidance from FLUIDOS experts
European high-tech SMEs, researchers and innovators will be invited to participate in the Open Call:
Interested? Be the first one to get informed about the launch of FLUIDOS Open Call!
Express your interest already today.
What to expect from FLUIDOS Open Call?
FLUIDOS will run its first Open Call, from December 2023 to February 2024, with two distinct call categories.
In the first open call, the Technology Extension Grant (TEG) and the Use Case Grant (UCG) will be awarded to a total of 10 selected applicants, specifically 5 recipients for each grant category.
FLUIDOS is scheduled to initiate its second open call from August 2024 to October 2024. During this second open call, the Use Case Grant (UCG) will be bestowed upon a total of 5 eligible applicants.
Applicants will be asked to offer additional Open Source functionalities to be integrated with FLUIDOS
Selected applicants will receive up to 75,000 EURO
FLUIDOS Technology Extension call will be open for individual entities: researchers, developers, SMEs, start-ups and other business entities, innovators or research institution
Applicants will be requested to test and validate FLUIDOS architecture and software by providing their own additional software on top of the FluiDOS system, and testing FLUIDOS application in new sectors (other than environmental monitoring, mobility, healthcare, security)
Selected applicants will receive up to 120,000 EURO
FLUIDOS Use Case call will be open for both: individual entities (researchers, developers, SMEs, start-ups and other business entities, innovators or research institution) or small consortia of 2-3 entities